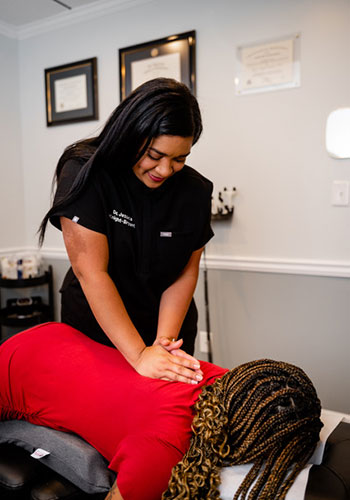 Pregnancy Chiropractic Care
in Marietta and East Cobb
Since your body is going through a tremendous number of physical changes in a short period of time, maintaining balance and alignment of the sacrum and pelvis through gentle chiropractic adjustments can help keep you comfortable and moving well.
Not only that, but many studies confirm that women who receive regular chiropractic adjustments throughout their pregnancy have shorter labor and delivery times, with less pain and fewer medical interventions. This is due in part to the fact that keeping the pelvis properly aligned allows more room for the baby to grow, develop and get into the best position for birth.
NEW PRACTICE MEMBERS

Our Passion
Helping moms have the pregnancy and birth process they've always wanted is our passion. Dr. JaGerran had planned on becoming a sports chiropractor, but when he saw how chiropractic helped his wife, Dr. Jessica, have an optimal pregnancy, he decided to focus on family chiropractic and care for pregnant moms and kids. He is certified in Webster Technique, a specialized technique that addresses the pelvis to ensure its proper position during pregnancy. Dr. Jessica is completing her certification in Webster Technique as well, and both are members of the International Chiropractic Pediatric Association.
Having experienced their own chiropractic pregnancy, they are eager to share their experience, knowledge and passion with practice members on a journey for a holistic approach to birth. For some people, having a female chiropractor who has been through the process herself is comforting, and Dr. Jessica is happy to share her experience. Dr. JaGerran was right there with her, and he is also committed to guiding practice members through this exciting time.
Personalized Care
We tailor care to your specific needs, based on a thorough examination and safe, non-invasive INSiGHT™ scans to help us locate areas of misalignment. We have pregnancy pillows to accommodate baby bumps of every size, so you can lie safely and comfortably face-down for your adjustment. Just being able to lie on their stomach and give their back a rest is many practice members' favorite thing!
We use gentle manual adjustments, drop table or Activator® adjustments, depending on your needs and preferences. All of our adjustments are gentle and safe for both you and your baby.
Get Started Today
The sooner you get started with pregnancy chiropractic care, the more time you have to enjoy a comfortable pregnancy. Contact us today to schedule.
CONTACT US
---
Pregnancy Chiropractic Care Marietta, East Cobb GA | (678) 403-1796