Meet the Doctors at
Mustard Seed Chiropractic
Dr. JaGerran Knight-Bryant and wife Dr. Jessica Knight-Bryant love what they do. Chiropractic changed the direction of their lives; they want to do the same for others. They are proud to be part of the 1% of minority-owned practices, and hope to inspire others.
Witnessing the Effects of Chiropractic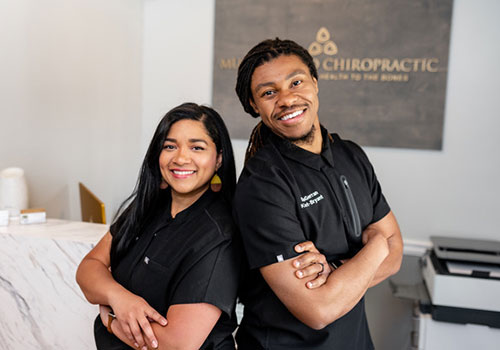 Dr. JaGerran lost faith in medicine watching his father sicken over time. His mother started chiropractic after his death, and saw how it improved her life. When she brought Dr. JaGerran to the practice, he didn't believe it would do any good. He suffered from tinnitus and had black spots in his vision for years. After getting a few adjustments, both disappeared, and he became a believer.
Growing up in Charlotte, Dr. JaGerran believed he would be a pro football player with the Panthers, and then become the team chiropractor. He attended East Carolina University, graduating with a degree in Biology and Chemistry.
From there, he received his Doctor of Chiropractic at Life University, where he met his future wife, Dr. Jessica. While there, he served as student ambassador for the President's office, introducing new students to chiropractic. During the time he held the position, over 900 new students enrolled.
EXPLORE OUR SERVICES

Relief From Migraines
Dr. Jessica was born in Puerto Rico and earned a Bachelor's degree in International Relationships, with a minor in foreign languages. While working as a veterinary tech, she observed that the animals responded much better to natural, holistic care that addressed the root cause of their issues than to the traditional medical approach that focused on symptoms.
About that time, Dr. Jessica started to suffer from debilitating migraines. After three chiropractic adjustments, the migraines resolved and her life changed—she realized that she had forgotten what "normal" felt like. This experience showed her that a natural, holistic approach was beneficial for humans as well as animals, and she knew that she wanted to become a chiropractor and help people live without pain.
She enrolled at Life University, where she met Dr. JaGerran. Dr. Jessica and Dr. JaGerran married during chiropractic school, welcoming their son Judah in 2021.
Building a Practice and Family
Over a three-year period, Dr. JaGerran and Dr. Jessica maintained their GPAs, completed their clinicals, passed board exams, and have now opened their first practice together, all while building their family. They understand the importance of maintaining a high standard of care, while managing the pressure and difficulty of a full workload.
---
Meet The Doctors at Mustard Seed Chiropractic | (678) 403-1796